The SMOK MORPH 219W Starter Kit deploys various technological advances in high-power vape system, integrating a smart, quick-firing IQ-S Chipset with 1.9″ HD Touch Screen and resin design elements to pair with the flavorful mesh-coils of the SMOK TF Sub-Ohm Tank. The MORPH 219W Box Mod maintains the ergonomic form factors known by SMOK Vape, with familiar designs stemming from the Species and Alien while introducing it's first resin-inspired panel to create a stunning all-day, best vape kit. The large customization 1.9″ HD Touch Screen is equipped with displays of useful data information and built for user-friendly functionality. The introduction of the intellegent IQ-S Chip also brings the MORPH 219W to new level, capable of fast-firing 0.001 seconds output and password protection to unlock the device. The MORPH can fire up to 219W of maximal power with preheat wattage values and full temperature suite such as TCR adjustments.
YOU NEED:
SMOK TF BF-Mesh Replacement Coils
SMOK MORPH 219W TC Touch Screen Box Mod Features:
Dimensions – 84.5mm by 44.8mm by 30.2mm
Weight – 158g
Dual High-Amp 18650 Battery – Not Included
New IQ-S Intelligent Chipset
Wattage Output Range: 1-219W
Voltage Output Range: 0.5-8.2V
Min Atomizer Resistance: 0.06ohm
Temperature Range: 200-600F
Supports Ni200 Nickel, Titanium, and Stainless Steel Heating Elements
Preheat Functionality – Soft, Normal, Hard, Max
Temperature Coefficient of Resistance (TCR) Adjustments
0.001 Seconds Quick Firing Speed
Superior Zinc Alloy Construction
Beautiful Resin Panel Design
Full-Color 1.9″ HD Touch Screen – New Interface
Password Protection
User-Friendly Interface
Stealth Firing Bar Mechanism
Bottom-Loaded Hinged Battery Door
Intelligent Atomizer Recognition
Puff Monitoring System
10 Seconds Cut-Off
Short Circuit Protection
Over Heating Protection
Over Discharge Protection
MicroUSB Port – 1.8A Charging Current
510 Connection
Available in Black Red, Blue, Gold, Silver Chrome, Rainbow
SMOK TF Sub-Ohm Tank Features:
25mm Base Diameter
30mm At Widest Point
Weight – 75g
6mL Maximum Juice Capacity – Convex Glass Extension
Superior Stainless Steel Construction
High-Grade Glass Reinforcement
High-Temperature Resistant – Explosion Proof
Convenient Top-Fill Rotary Design – Lock Button Mechanism
Massive Dual Adjustable Airflow Control at Base
810 Cobra Resin Ultra-Wide Drip Tip
Plug-Pull Coil System
Antibacterial Medical Cotton
510 Connection
Includes:
1 MORPH 219 Box Mod
1 TF Sub-Ohm Tank
2 0.25ohm TF BF-Mesh Coils
1 Bulb Glass Protective Silicone
1 Replacement Glass Tube
1 MicroUSB Cable
1 Instructional Manual
Please have a great understanding and technical knowledge on how to use this product in order to properly use it.
We highly recommend using an external battery charger for 18650 battery mods, as it helps with balanced charging and prolongs the life of the battery and mod, such as from worn out micro USB port. Never use damaged or improperly wrapped batteries with this device. We recommend all 18650/20700/21700 battery mods to use matching batteries with similar brand, model, and battery state at all times.
In order to use temperature control feature, it requires use of nickel, titanium, or stainless steel coils.
Note: There is always an inherent risk when using any rechargeable batteries at any time and under any circumstances.
When working with Li-ion (Lithium-ion), LiPo (Lithium-ion Polymer) and any rechargeable cells, please be cautious and carefully use as they are very sensitive to charging characteristics and may explode or burn if mishandled. Please make sure that you have great knowledge on all rechargeable batteries before you use them. Always charge batteries at the clean and fire-proof surface. Never leave charging batteries unattended. If you see that there are visible damages on the batteries, please do not use. Always keep, store and transport the rechargeable cells in a safe, non-conductive container in a controlled environment
Do not use any rechargeable battery as well as any battery charger if any visible damage is present, as well as if the cell or charger has been stressed through mishandling, accidental or otherwise, even if damage may not be visible. Always store and transport rechargeable cells in a safe, non-conductive container in a controlled environment. Please dispose of battery cells, chargers or any other electronic devices in accordance with local laws and mandates.
Morph 219 kit, an outstanding example of top-notch craftsmanship and advanced technologies. It is the world's
first mod designed with input keyboard, which is a revolutionary change for mod operation! It also improved
the inner chip, shortening firing time to 0.001S! As for screen, its 1.9″ touch screen can offer you convenient
operations. Its max output power is 219W, easily to satisfy the cloud chasers. TF tank is included in this kit,
with 6ml e-liquid capacity and two powerful coils, it would provide best flavor and cloud.
Innovation keeps changing the vaping experience!
5 COLORS AVAILABLE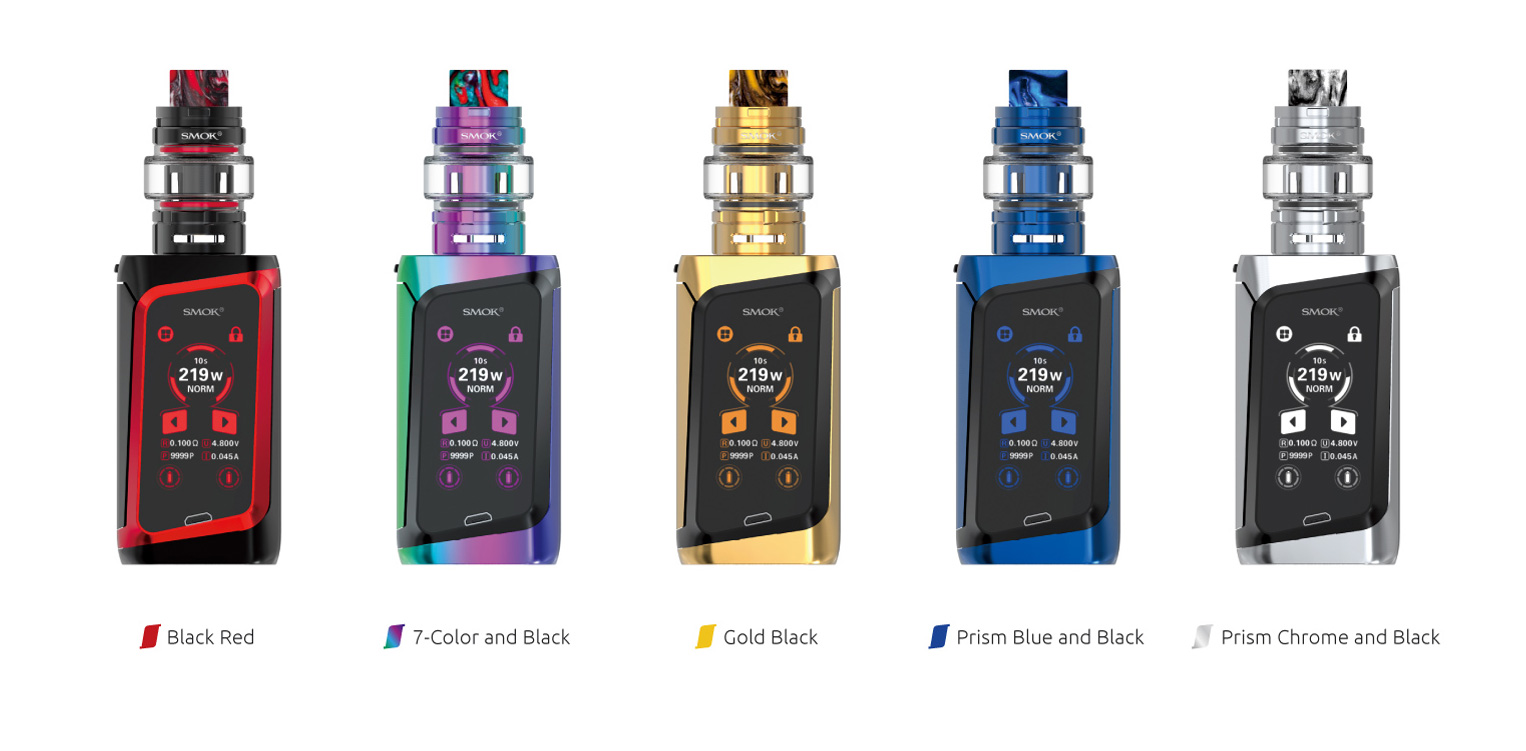 Bulb Glass Silicone Protector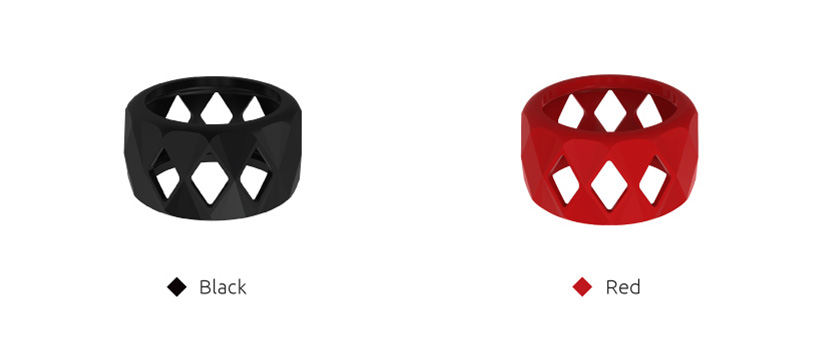 CLASSIC & MODERN
Morph 219 is a perfect combination of classic style and modern trend. The whole mod has glossy finish and at the
back it is inlaid with exquisite IML resin. Although it has similar appearance with the legend RHA220W, Morph 219
has fully improved whatever in material or performance, it can be the new vaping fashion!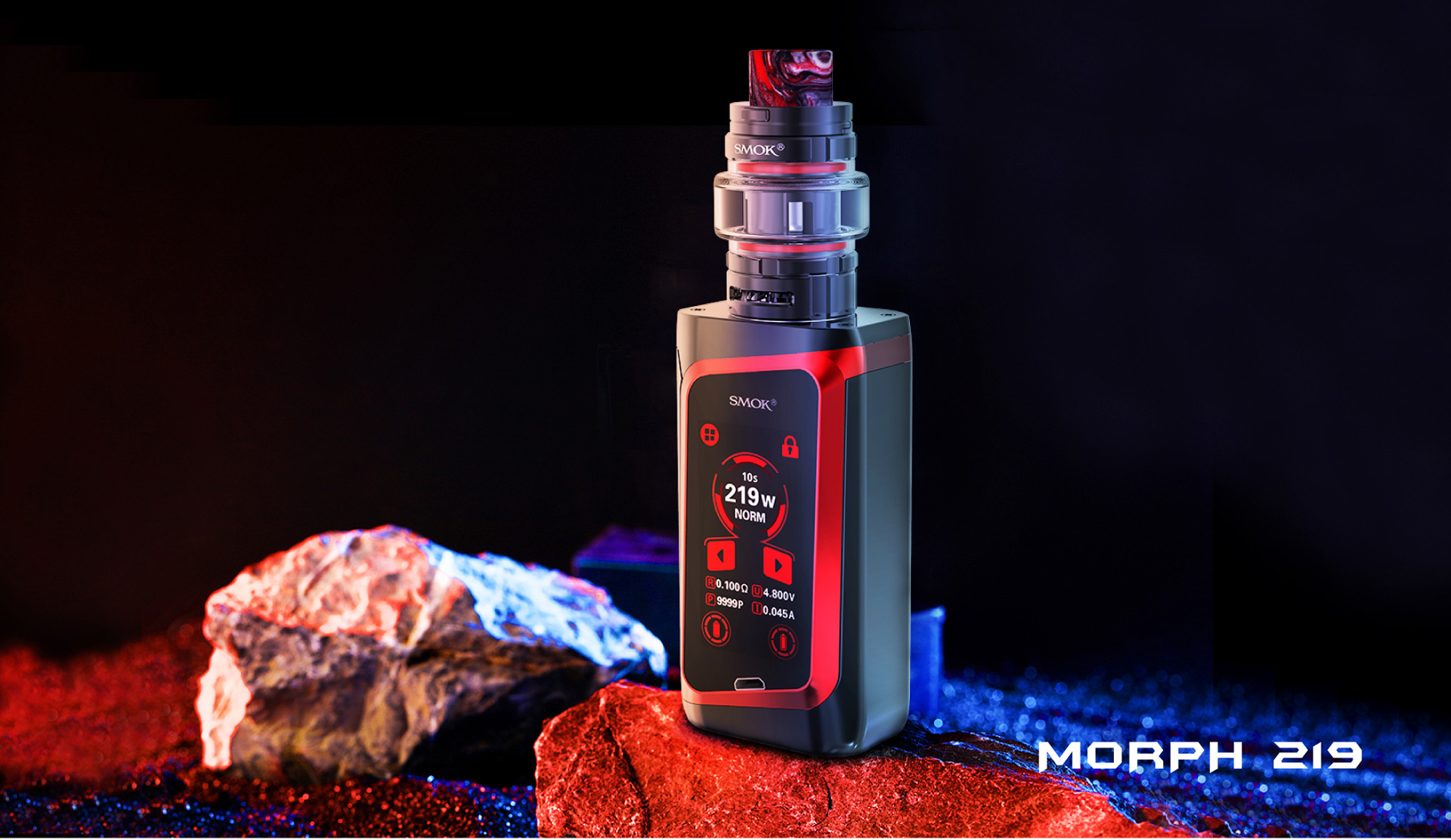 THE KIT INCLUDES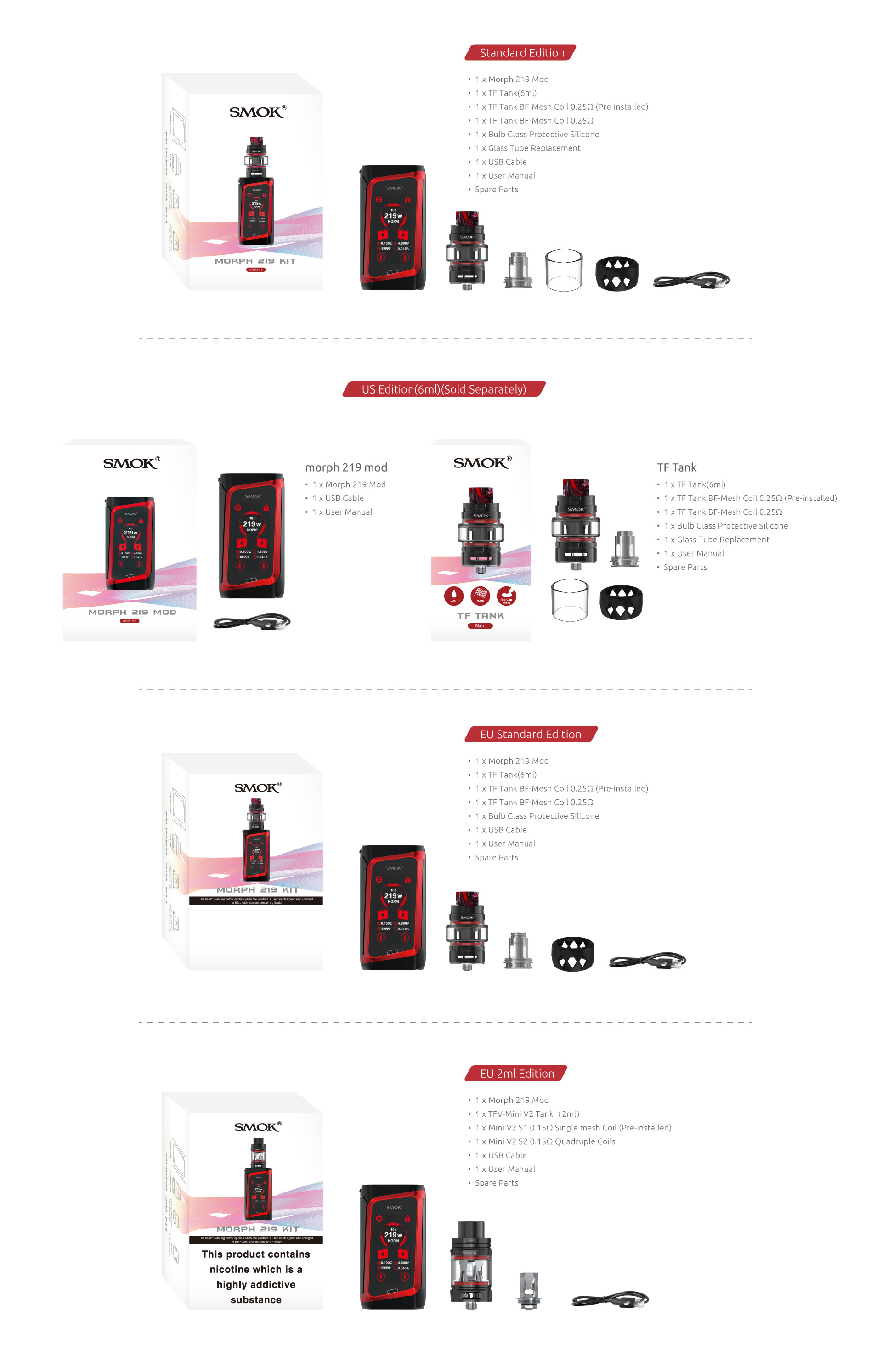 COMPONENTS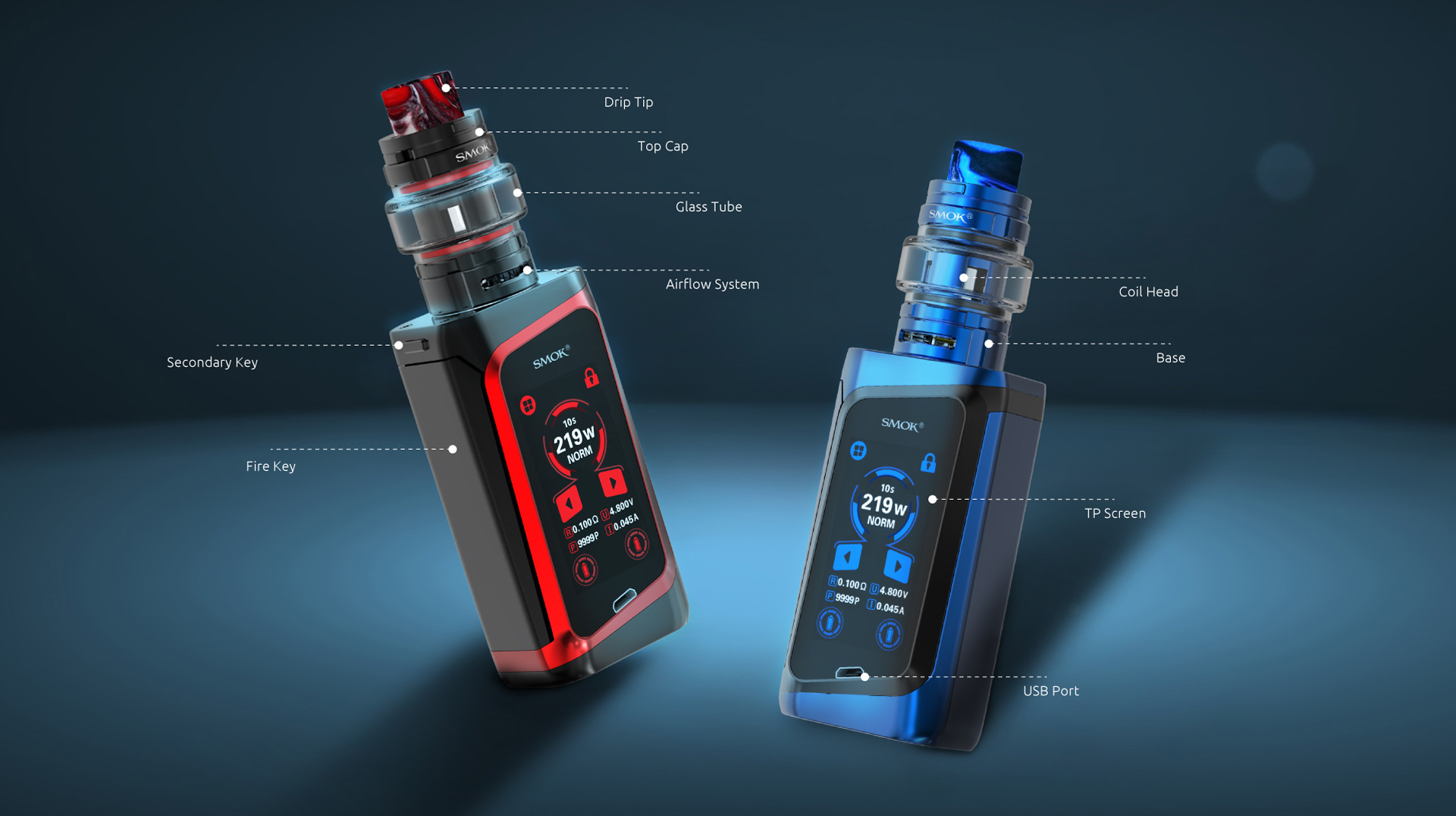 SPECIFICATIONS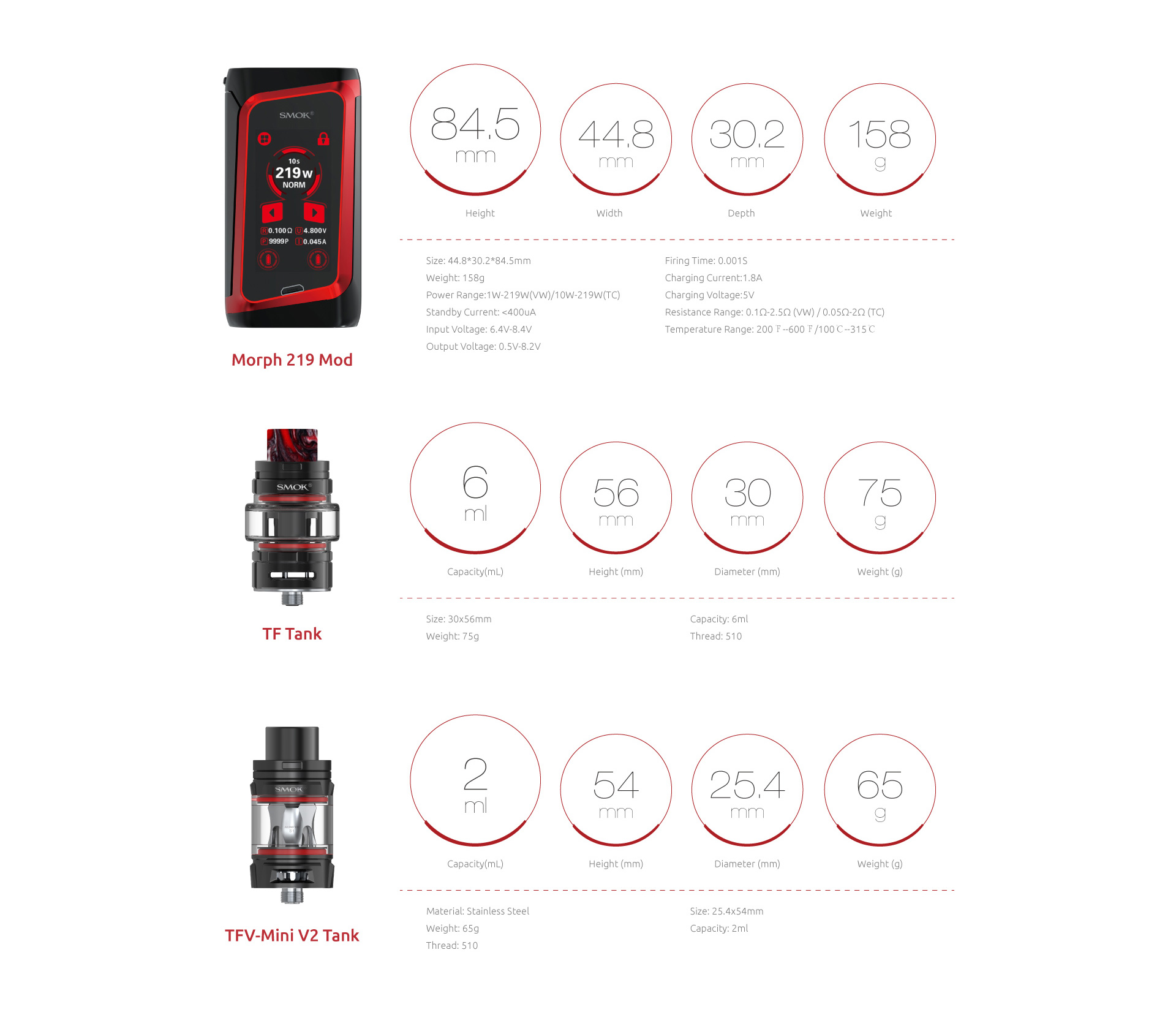 TOUCH SCREEN
Morph 219 owns a 1.9" colorful touch screen, which is very responsive, most of the op-
-erations can be finished with a simple touch.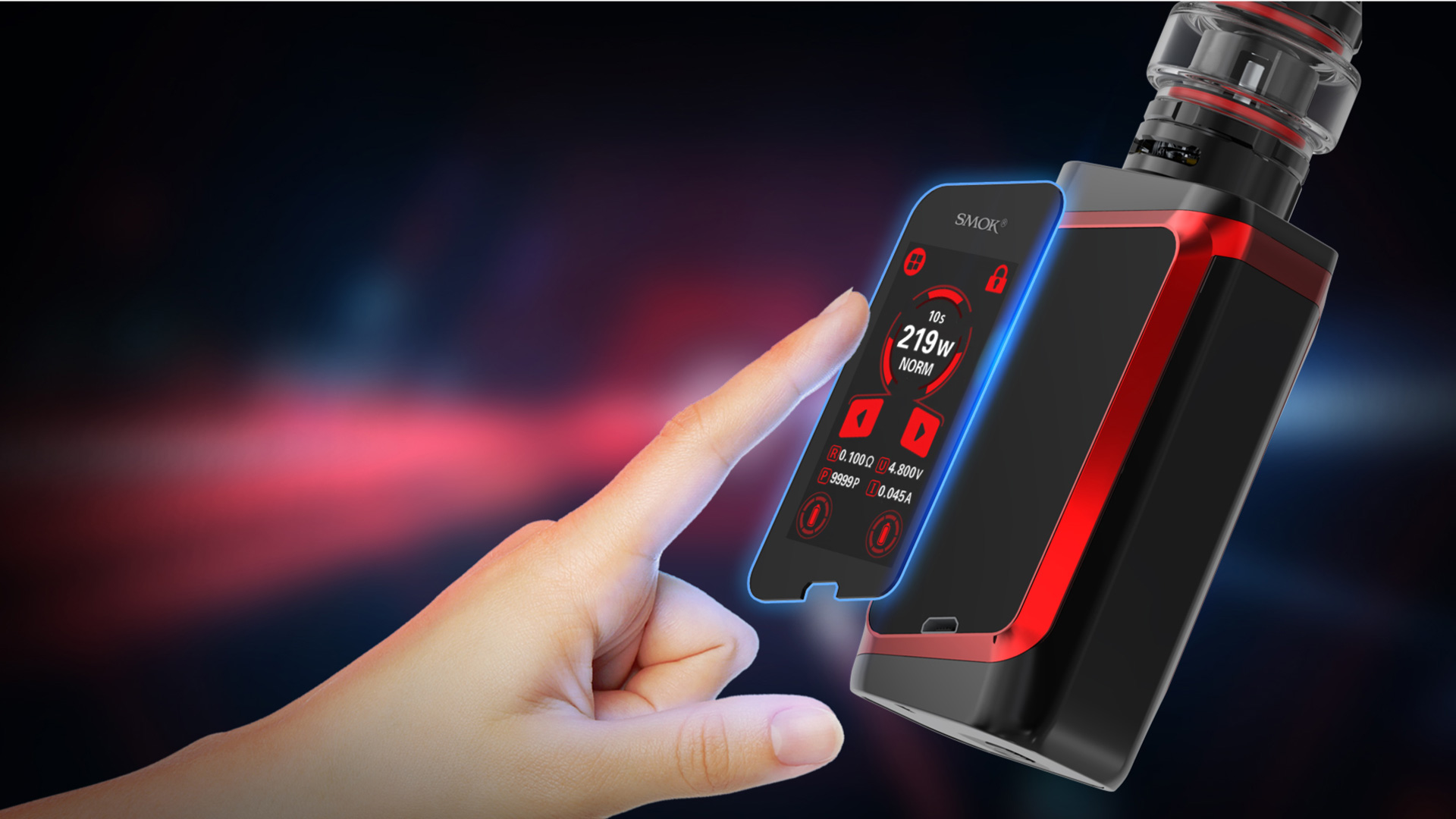 BRAND NEW USER INTERFACE
Newly upgraded UI by SMOK team provides more clear and detailed vaping information, such as VW/TC MODE, vaping effect, voltage, battery level, etc.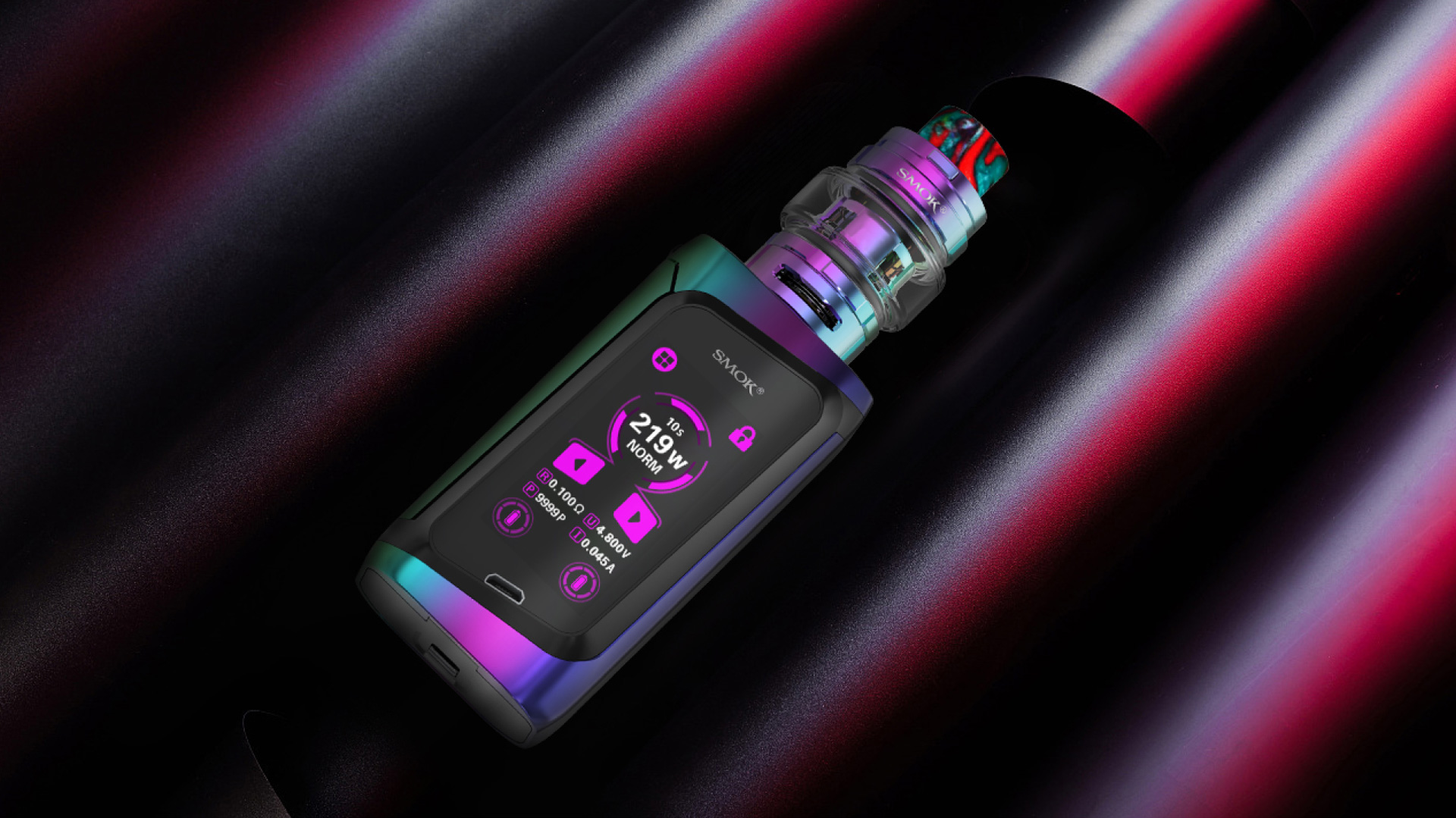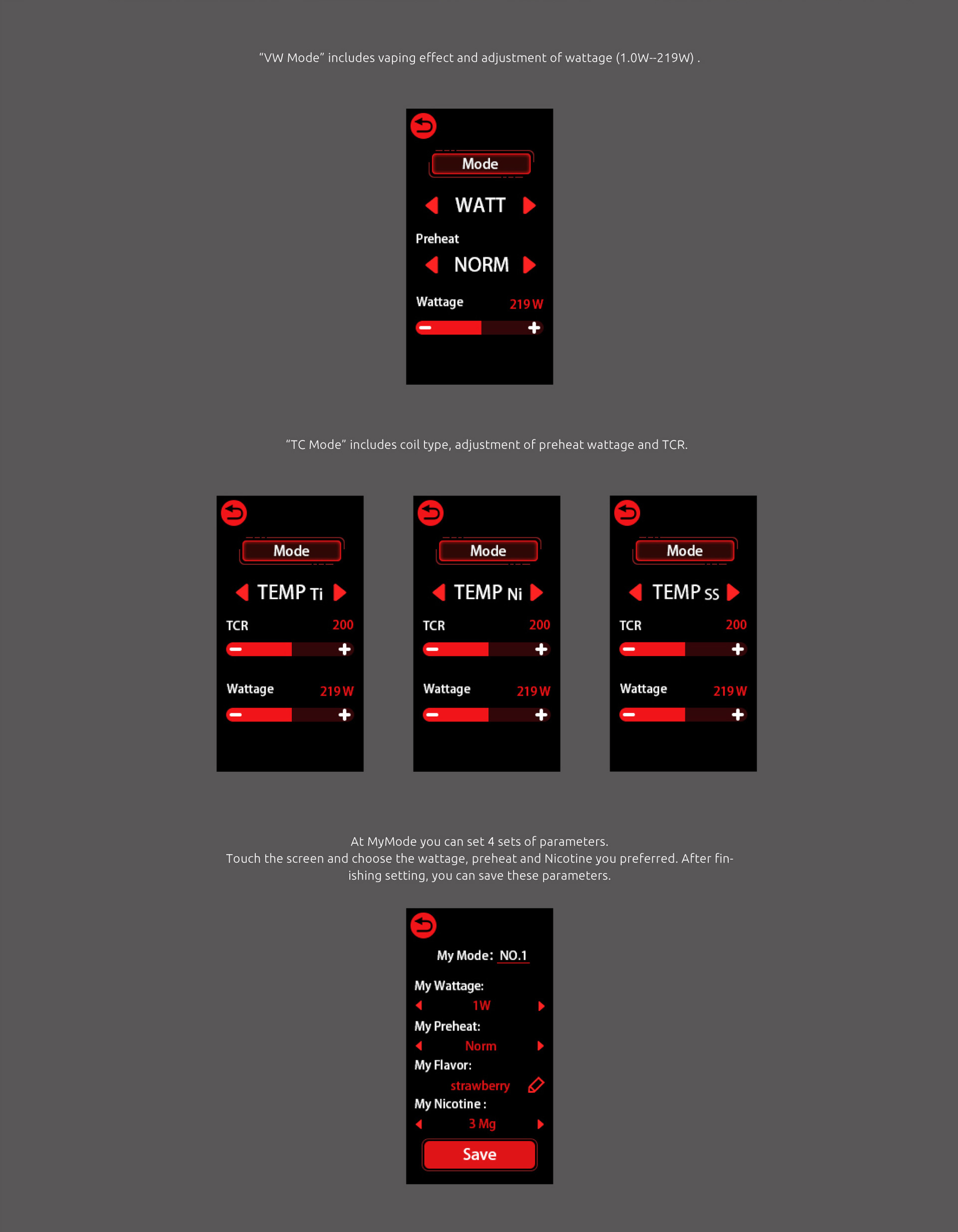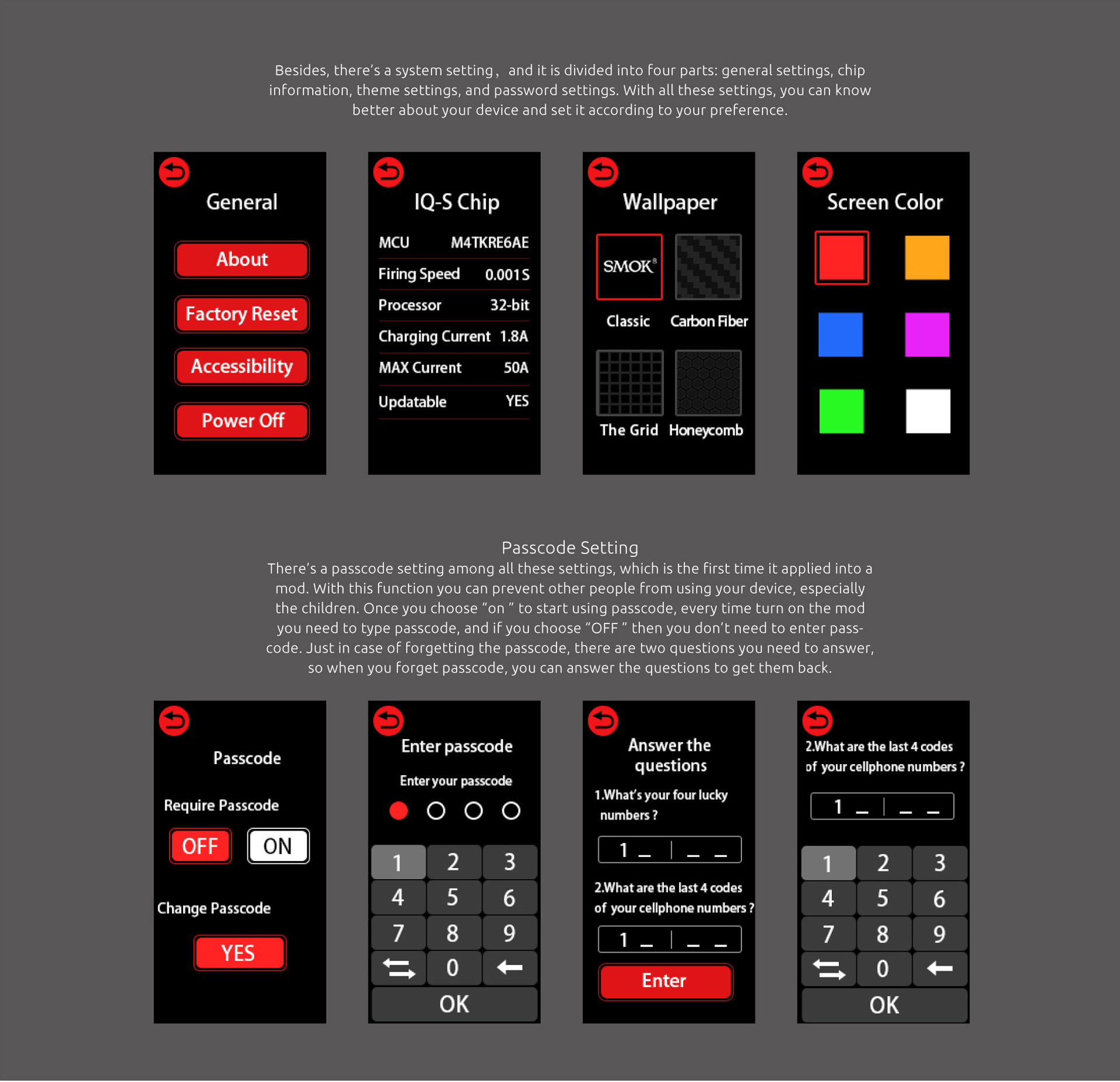 SECONDARY KEY
Morph 219 has a secondary key at left, right above the fire key, it can be used to lock/unlock the touch function
and light/black the screen. When you vaping, touch function would be automatically locked, you must long press
the secondary key to unlock it.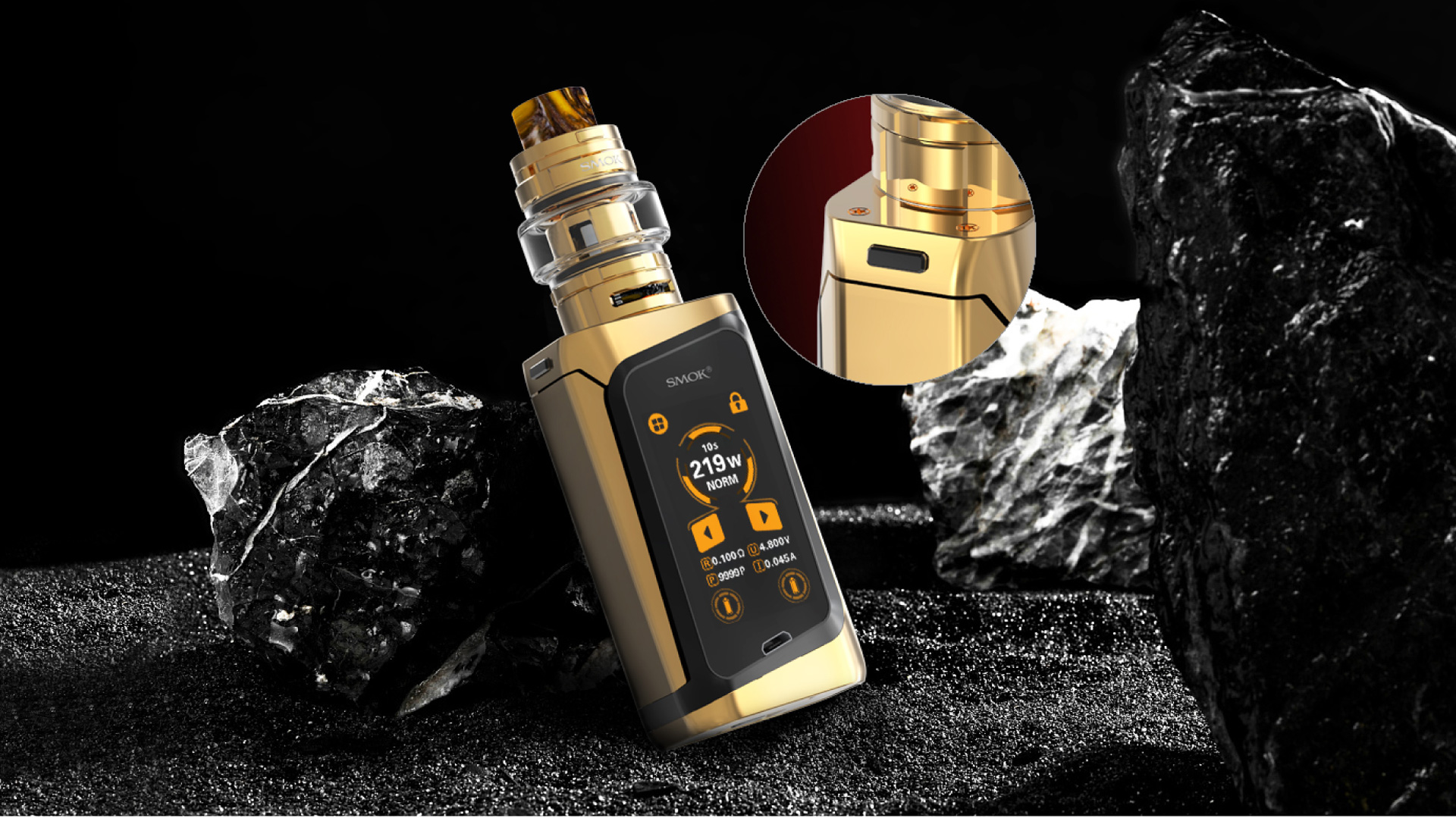 ERGONOMICALLY DESIGNED FIRE KEY
Morph 219 has a big lateral fire key, which is on the left side of the mod, much easier to operate than right side ones.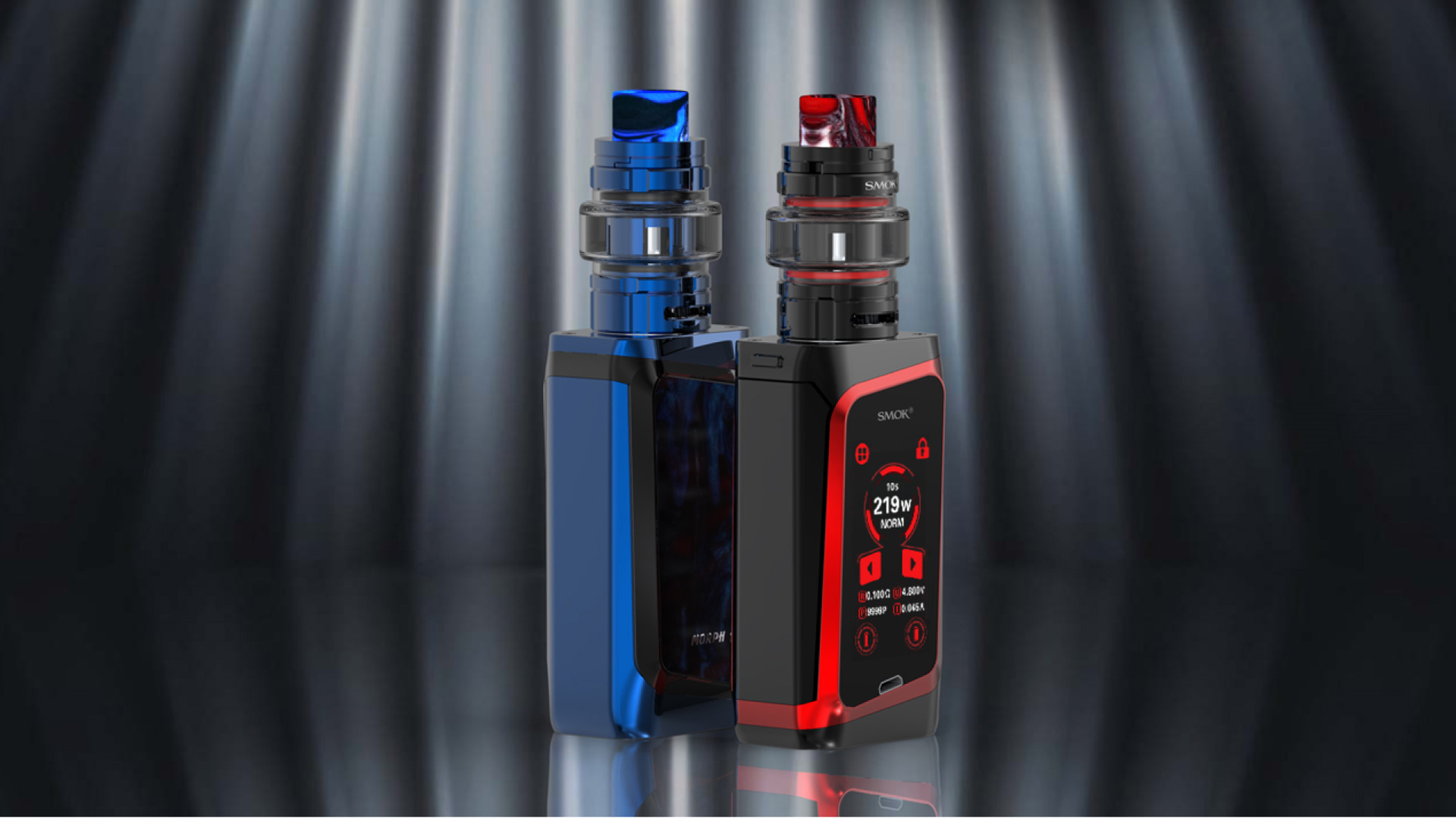 219W OUTPUT POWER
The max output power of Morph 219 can up to 219W, which could ensure longer vaping time and satisfy
vapor chasers.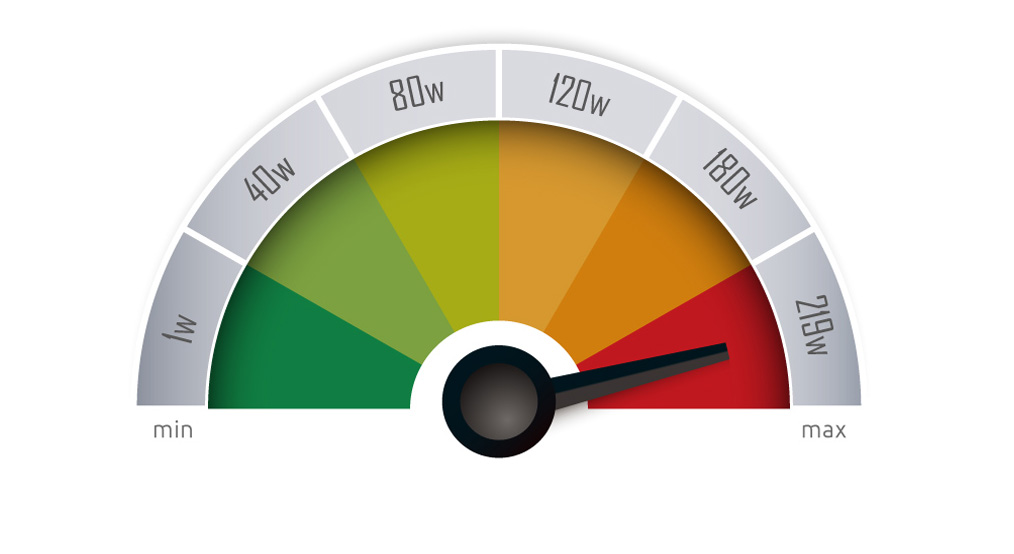 BATTERY INSTALLATION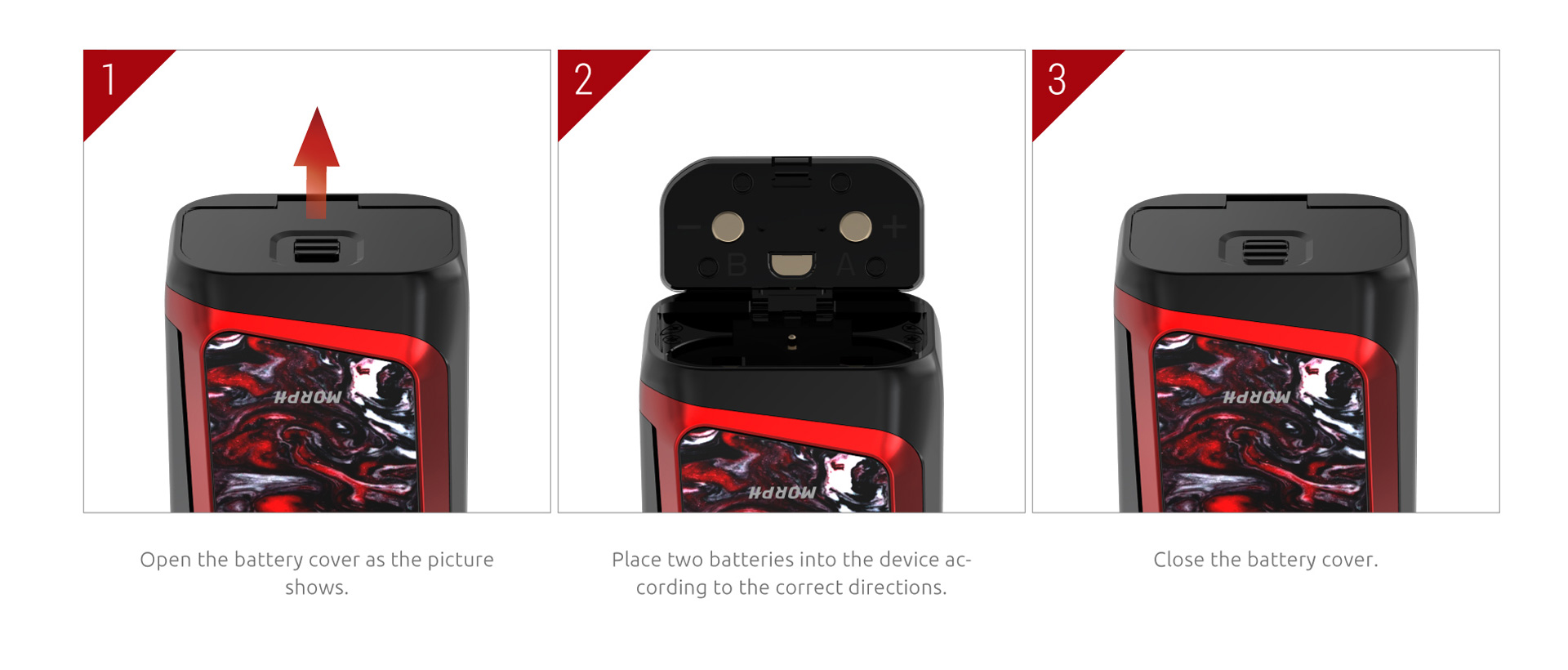 MULTIPLE PROTECTIONS
Morph 219 provides multiple types of protections to avoid potential risks.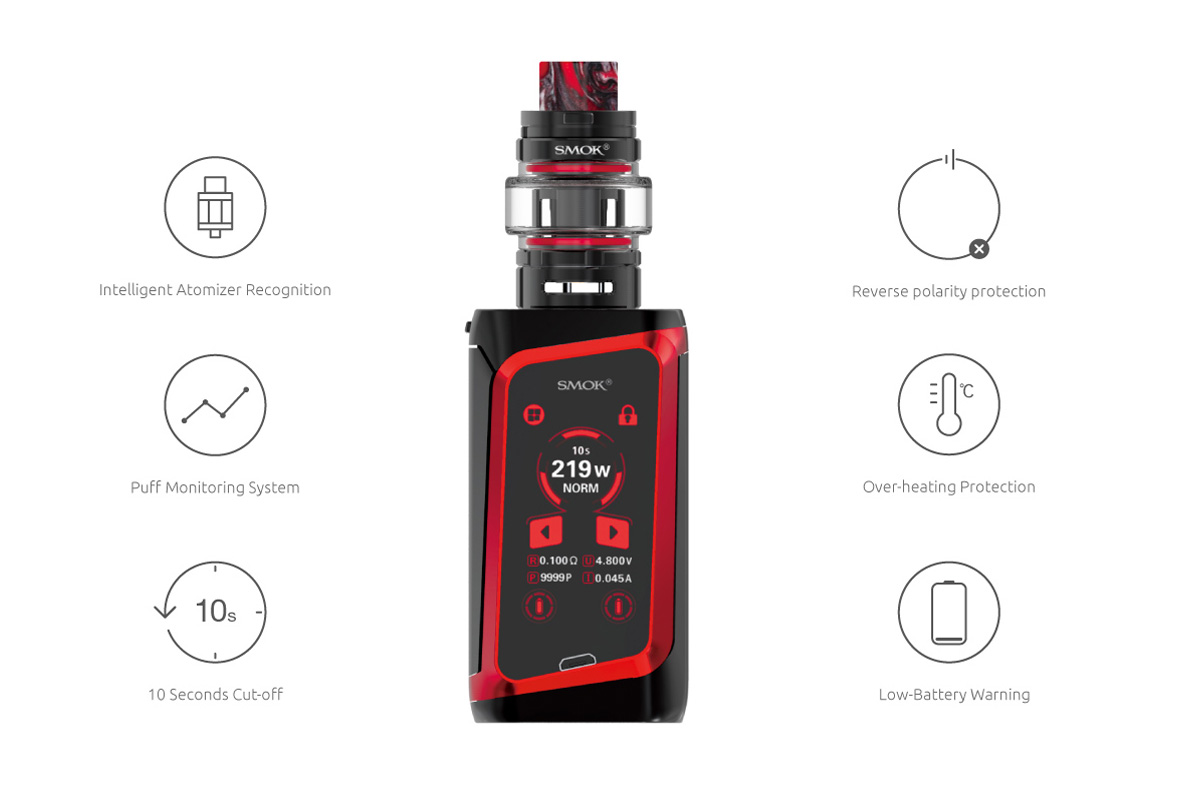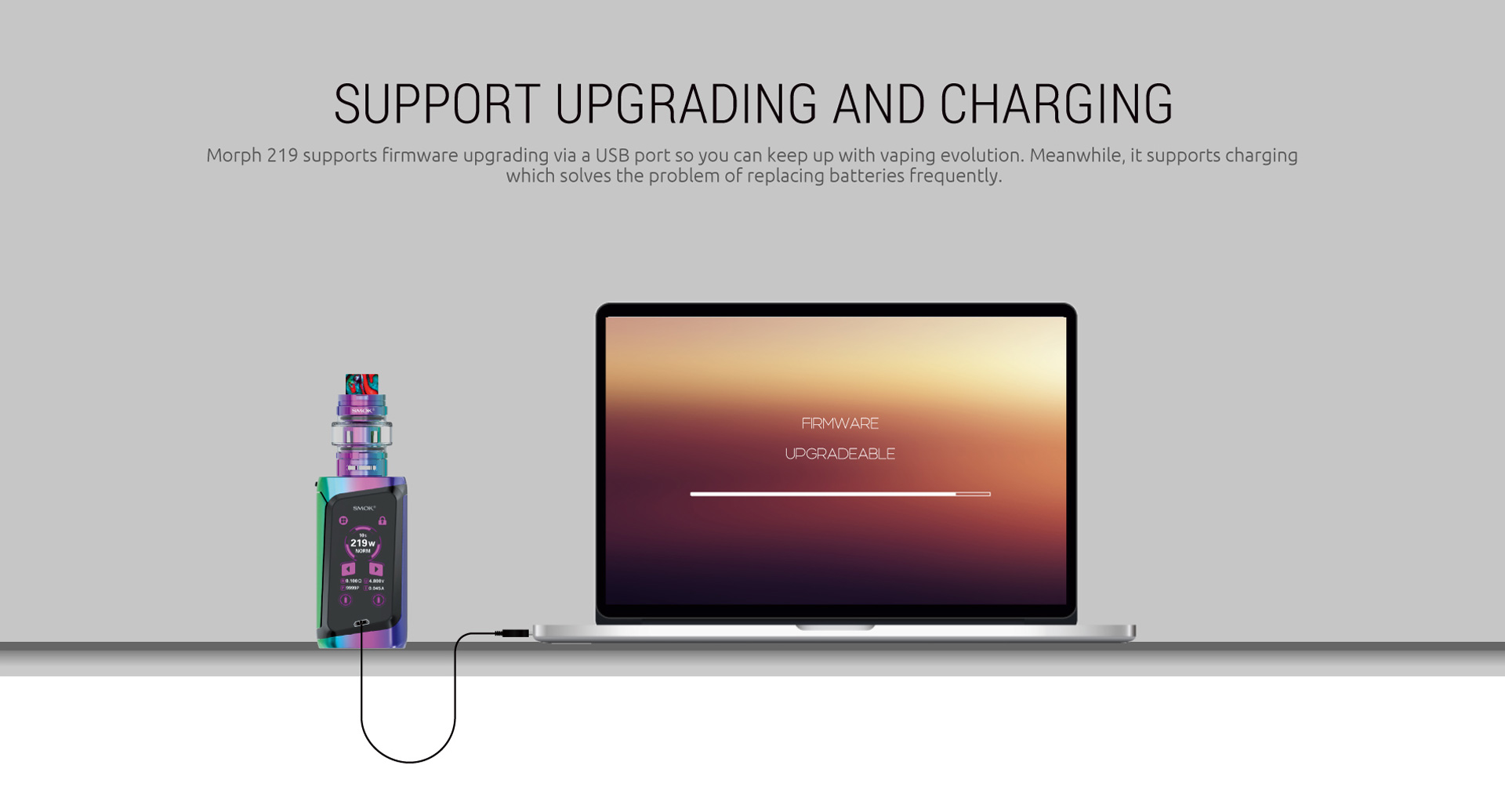 TF TANK COIL FAMILY

COLORFUL RESIN DRIP TIP
TF tank uses colorful resin drip tip, with fancy and healthy material, sleek and beautiful colors, it is a perfect accessory.
You can buy them separately.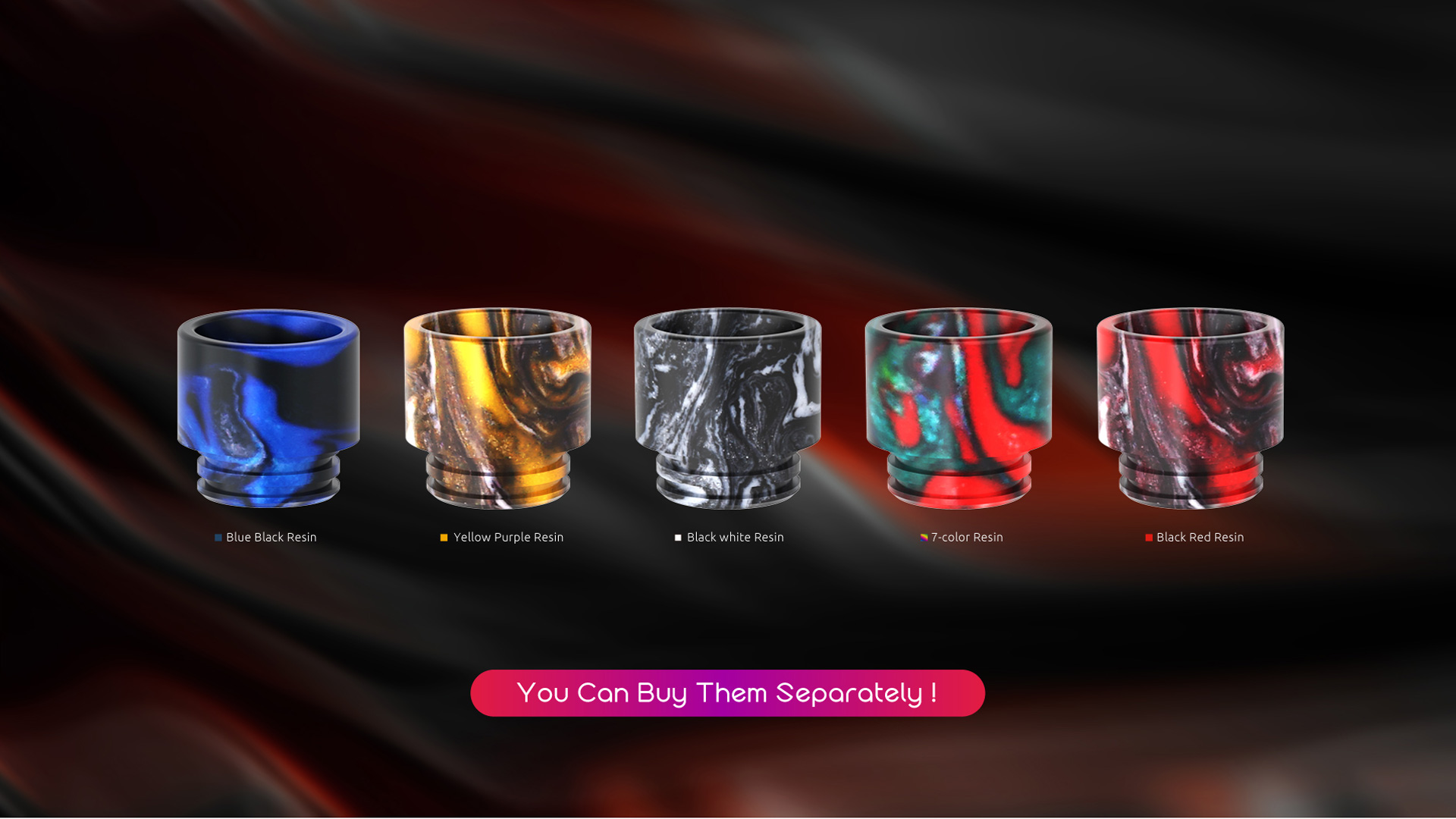 HIGHER TANK BASE
TF tank has higher base than other tanks, which can offer larger room for the coming airflow. Huge vapor, excellent flavor, you can own both with this tank!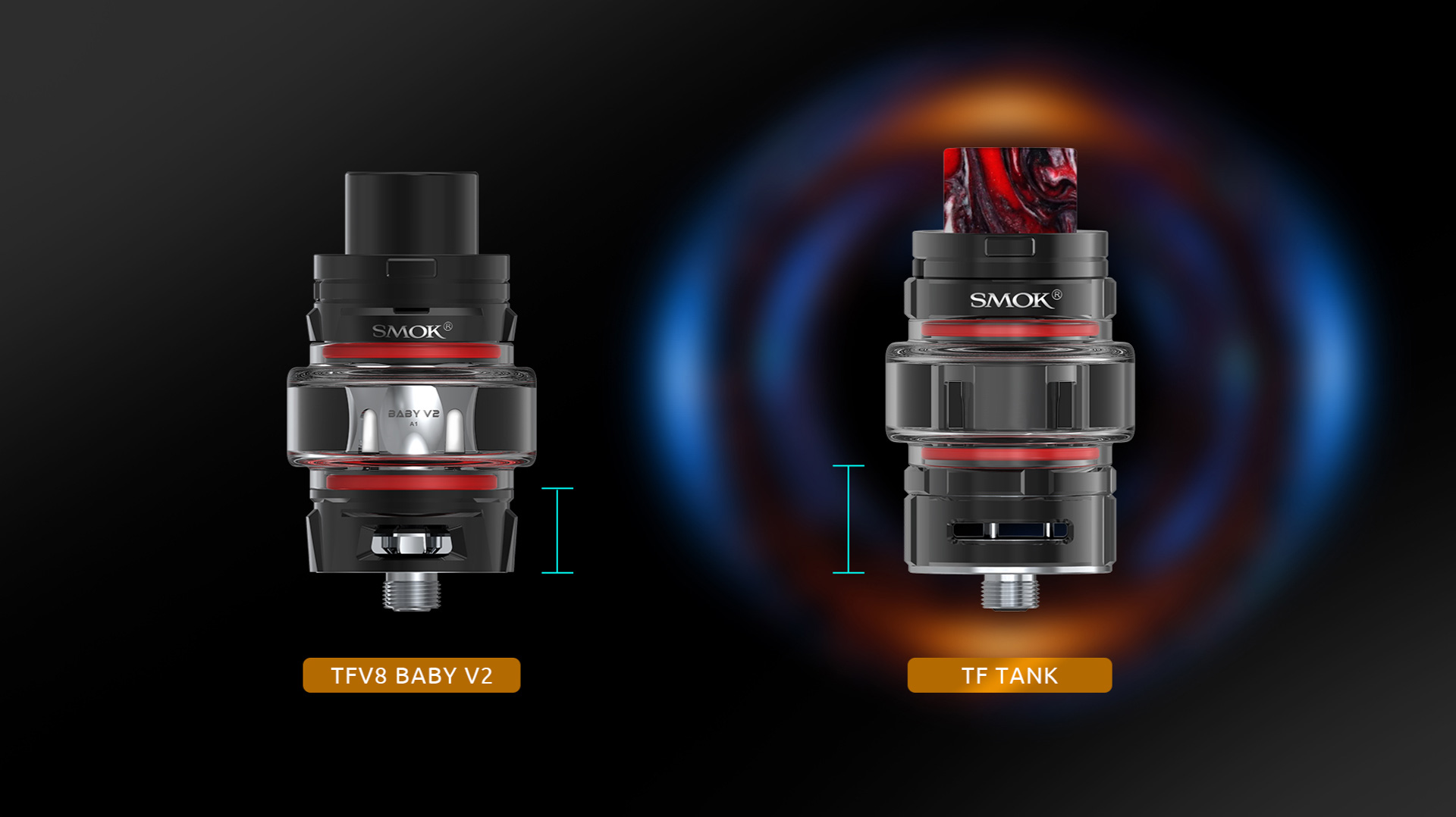 HOW TO FILL WITH E-LIQUID